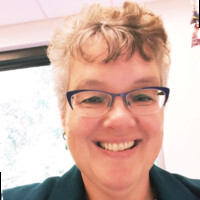 HQ Update: Introducing new faces at Doyenne
By Heather Wentler 
We recently hired a new director of development, and we're delighted to introduce her to the Doyenne community, along with three new interns.
Emily Capelle
Development Director
Emily Capelle brings more than 20 years of experience in fundraising for nonprofits. Her experience with online giving campaigns, annual giving, grants, and relationship management cultivating major and planned gifts will help Doyenne develop a more sustainable source of funding. 
What made you interested in Doyenne? 
I feel strongly about empowering women and helping them achieve financial, educational, and leadership equity. I believe it's critical for the good of our communities, otherwise we are operating on only half an engine and not achieving prosperity and potential for everyone. I'm active with the Women's Fund of Greater Milwaukee and can see how activating philanthropy furthers equity for women. Also, I'm building my own consulting service for nonprofits in fundraising, so this seemed like a great fit with my professional goals. 
What will your day-to-day role look like in Doyenne? 
I'll be spearheading philanthropy for Doyenne. And to me that means connecting interested supporters with Doyenne's mission, helping to raise awareness of the awesome programs and services Doyenne provides for women entrepreneurs and how important this mission is for our communities. I'm looking forward to getting to know our supporters and learning about the impact they want to make through their investments.
What is your first goal in this position?
Getting to know everyone—colleagues, supporters, community partners, members—and understanding Doyenne's philanthropy needs. I'm really looking forward to helping further the mission in support of women entrepreneurs in our communities. 
What is your favorite way to spend a cool (sunny) fall Saturday morning? 
Hiking! And having an ice tea at Panera ☺.
Campbell Hill
Membership Intern
Campbell serves as a direct contact with members to welcome them, troubleshoot issues, and support their overall experience.
Tell us about yourself?
I am currently a senior at Marquette University majoring in Information Systems and Business Analytics. Growing up surrounded by powerful women and a business-driven family, it's always been one of my life goals to start my own company. So when I got the opportunity to begin working closely with successful female entrepreneurs, I couldn't pass it up. In my free time, I love meeting new people, running, and trying new foods.
Abbey Bressers
Marketing/Communications Intern
Abbey creates graphic images and content for Doyenne's social media pages.
Tell us about yourself?
I am originally from Green Bay, Wis., and am currently a junior studying Marketing and Digital Studies at the University of Wisconsin-Madison. Ever since I was a little girl, I have loved all things dress-up and clothes. Because of this, I plan on going into the fashion industry after college! On campus, I am involved in the professional business fraternity Delta Sigma Pi. Currently, I am the Senior Vice President. During my free time, I love to hang out with my four younger sisters, traveling, and trying new restaurants!
Ashley Benson
Events Intern
Ashley updates the website and calendar with information on future events and provides assistance in event organization. 
Tell us about yourself?
I am currently a senior at the University of Wisconsin-Madison studying Supply Chain Management, Operations & Technology Management, and Marketing. I am passionate about sustainability and female empowerment in business. In my free time, I enjoy hiking, trying new restaurants, and traveling.