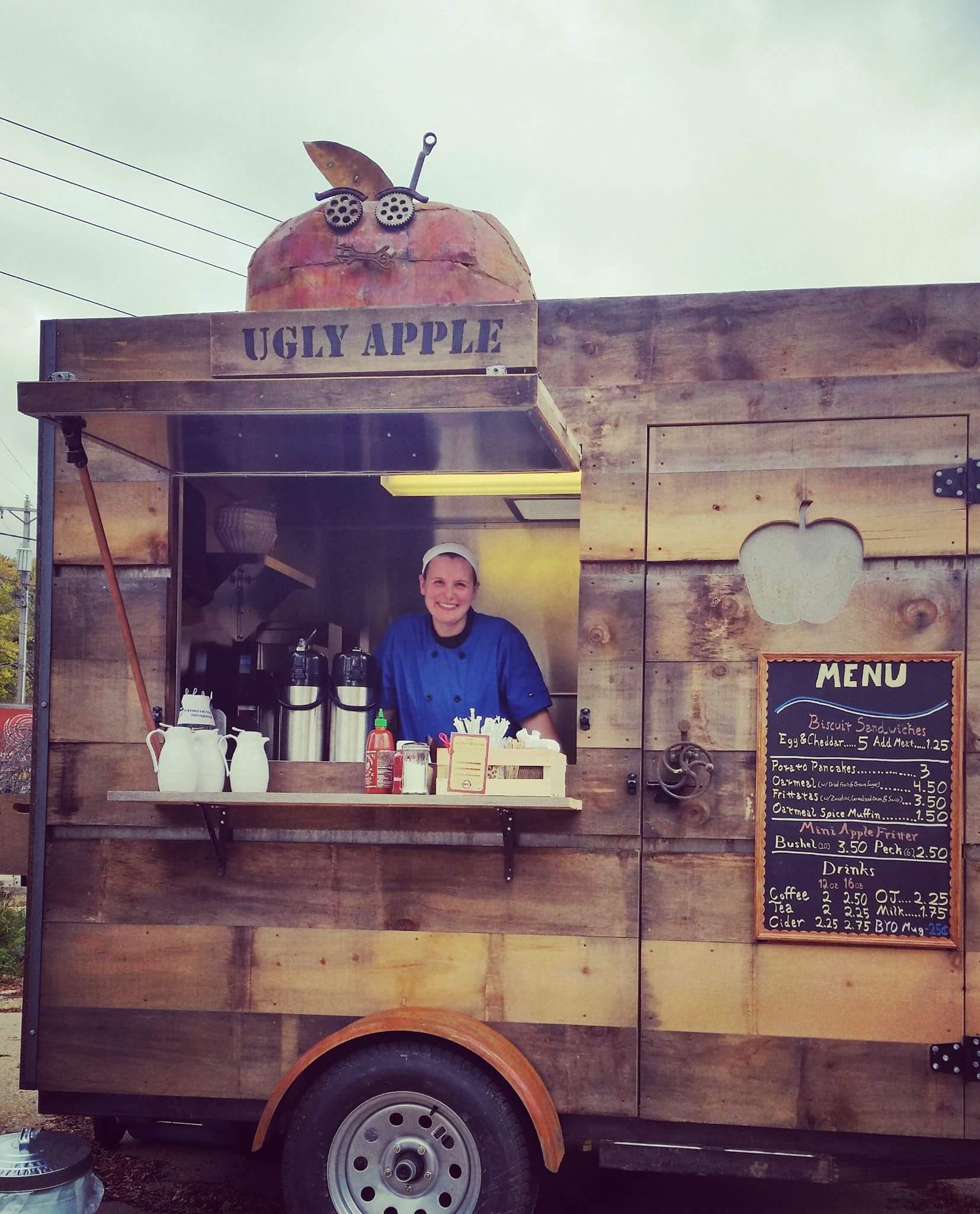 In the Spotlight: Laurel Burleson, founder of Ugly Apple
Laurel Burleson has always wanted to start a food-related business. She's been involved in the culinary industry since she was in high school, but it wasn't until she moved to Madison and experienced the farmer's markets that she realized what kind of business she wanted to start. 

The farmer's markets introduced her to the problem of food waste from imperfect produce. Seeing food that was grown locally, and often organically, being thrown out because it was ugly, made Laurel upset, and inspired her to imagine how to build a business around ugly produce. 

In 2016 she launched Ugly Apple, starting with a food cart, but with a vision of becoming a large-scale producer of food products made from rejected produce. Her first product, an apple-based fruit leather called Apple Straps, is available at several stores throughout the Madison area, including Willy Street Co-Op and Pasture and Plenty in Madison, as well as Landmark Creamery in Paoli. 

Laurel shared some of the challenges of her journey so far, and her vision for the future. 

What is your long-term vision for the scaling up the Apple Straps? 

One idea we're pursuing is to set up micro-production facilities in different places that are rich agricultural areas, for example, the berry country of western Michigan, or the apple farmers in upstate New York. That way consumers would always be eating produce from local farmers. All the recipes are easy to standardize by weight, and you use a commercial dehydrator, which is big, but not enormous. So it might be like a franchise where we set up one person with the recipes, help them get farmer connections, and start them off on their own Ugly Apple processing.

What other products are you dreaming up? 

I'm talking right now with UW Health about doing baby food for them and maybe cauliflower pizza crust. I'm also looking into ways to make food products for institutions with big cafeterias. For example, when all of the farmers have tomatoes right around now, buying all of those and making a couple set products with them. A tomato paste or puree. It's a way to recover everything that we can from the farmers in bulk and process it into a simple form.

What have been some of your biggest growth milestones?

Working with Doyenne and getting the Evergreen grant was pretty validating. And doing the accelerator course with them was really eye-opening to what's possible. 

I love that — I thought you were going to say "eye-opening about how scary it is" or something, but that's great that Doyenne has helped you see even more potential in your venture. How has Doyenne supported you in your journey? 

Doyenne's support has been really cool. Everytime I feel stuck, if I talk to Amy then she gives me rejuvenation about what's possible. She always has a new way to think about things and look at things. It's like getting a vitamin B12 shot. I have all this energy to do all the work. 

What other milestones have you achieved? 

I'm part of the Market Ready program, which helps vendors prepare for the upcoming Madison Public Market, and I've been getting a lot of support from the people there as we shift from focusing on the food cart to focusing on production. The coordinator for that group, Ian, helped me put together a Department of Agriculture grant. That was another big milestone — I got a matching grant last winter to expand the fruit leather product. 

What's been the biggest challenge so far?

One of the biggest things is learning my own limitations. I have a few employees now, but I'm always trying to grow and figure out how to delegate and relinquish control. I'm always trying to figure out what is a good use of money to get either a technology or a person to do something for me, versus just doing it myself. 

The other challenge is trying to make business decisions that aren't solely based on what I like to do. I would rather just make crazy products that are all different all the time with whatever I have, and make one case of each. But if people like it, they'll want more. I have to fight those impulses. 

I do get to do some small-batch jellies and jams, based on whatever fruit the farmers have available. If they only have three bushels of plums, those are all the plums for the year. So that's the outlet I use for that desire to make something really cool and fun and weird.

And you're expecting twins? 

Yes, that's the big challenge this winter. I'm expecting twins, due the beginning of December. We were thinking we'd have one child, and now we're ending up with two. So that's a big turn of not knowing what to expect. But I do have some staff so we can still keep the processing going for the Apple Straps.